Girls get gold
Seniors Rachael Gaulin and Alyssa Kassab wrote this year's DECA gold recertification paper for the Eisenhower Eagles' Nest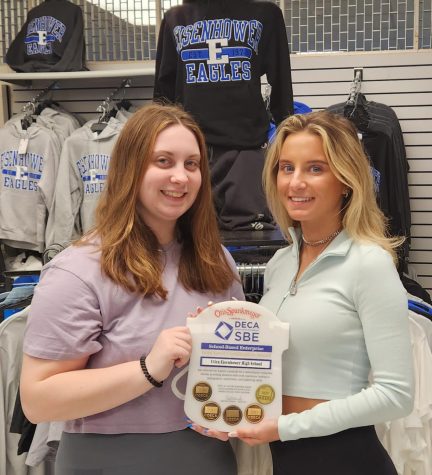 Chasing after recertification, seniors Rachael Gaulin and Alyssa Kassab receive the gold for Eisenhower Eagles' Nest.
"It had taken us a couple weeks to really get that paper down and to a good point. It was just me and her writing it. So, I kind of felt like our work had paid off and that we had done a good job for the store," Gaulin said.
Every year, a couple of students who run the school store and who are a part of the Distributive Education Clubs of America (DECA), write a 20-25 page paper explaining why the school store should receive gold certification. It includes key information like marketing, sales, placement of the products and so much more. This year, the gold certification paper emphasized installed sanitary policies, sales, apparel sold and the way Eagles' Nest is managed.
"[When I found out that the school store got recertified, I felt] ecstatic. I mean, the girls worked hard on that paper. So, this is our seventh year in a row [achieving gold certification.] "I'm proud of them, you know that goes without saying," marketing teacher Louise LaFaive said. "I'm just proud of them and glad that they did it. I'm looking forward to what's to come."
Since Eagles' Nest won the gold certification, they'll be flying to Orlando, Florida. They will be attending a conference to compete against other teams for more award opportunities. 
"I definitely learned how to be more of a leader. By taking more of a leadership role in the store, [I learned to] take charge when it comes to really big and important things in the store. Writing this paper was a good experience overall and I learned different skills and techniques," Gaulin said.