Lucky Brunch up the ranks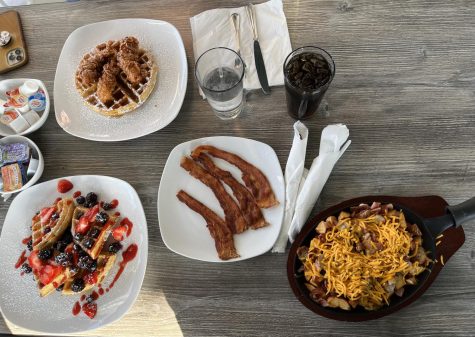 Breakfast is the most important meal of the day, but when combined with lunch, makes for a perfect balance of sweet and savory foods. 
Lucky Brunch opened, located on Van Dyke Avenue, Sterling Heights. The owners opened this beautiful brunch house with plenty of other selections, such as lunch and dinner. They are open from 7 a.m. to 3 p.m. Walking into the restaurant was definitely an experience because of the purple and pink fairy light theme. There were booths on the left side of the restaurant and tables on the right side. 
There was a homey and comfortable look to the restaurant. It was warm and when you walked in, it felt like a breath of fresh air. Everything about this place screamed, "relax and have a good time." This was exactly what happened. It was one of the best restaurants that had been attended since quarantine. 
The customers were able to see the kitchen and cooks. There were three waitresses working at the time, and all of the girls were very helpful; they all helped one another with any table needed. As a former waitress, it was very refreshing to see teamwork in this establishment. 
The restaurant allowed walk-ins and the opportunity to seat ourselves. The waitress came to the table with a friendly smile and was very nice. She brought water and allowed lots of time to browse the menu before ordering. Plenty of different options to choose from, options of omelets, sandwiches, waffles, and pancakes.
 There was an option of "chicken and waffles", the menu had described it very well and there was a craving to try this delicious meal. It was three chicken strips and one plain Belgian waffle, with a sprinkle of powdered sugar. The order was a combination of sweet and savory. At first, I was hesitant about the two, but after enjoying the food and having a flavorful first bite, it can be said that it was the best breakfast ever tasted. The crunch, and the sweet but savory flavor was a match made in heaven.
Having just opened, it was super busy when walking in but did not slow down. The restaurant was a bit crowded and wasn't very spacious. However, with catchy music playing, people talking and having a good time made for a great experience. The energy was contagious and amazing to be around. 
For being so busy, there was a sense of rushing. The server had rushed the bill process, and there was a feeling of urgency to leave the restaurant. It was rush hour, so it was understandable because of the waiting list. 
Leaving was the hardest part of the experience, not wanting to exit the atmosphere at all, it felt amazing and alive to be there. People should definitely visit here for a good breakfast.