Senior flower tradition continues
The seniors continue the tradition of giving a flower to a staff member
Seniors walk the halls of high school to find and give that special staff member who made their years here a flower to show their appreciation.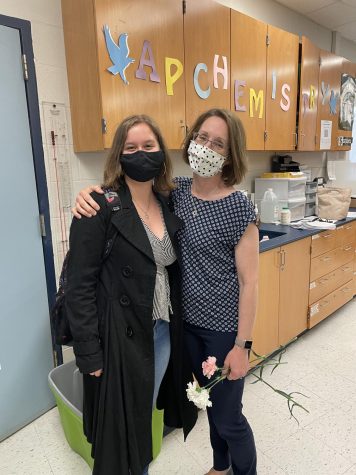 "I gave my flower to chemistry teacher Melissa Minton because her chemistry class was one of my favorites," senior said Sophia Considine. 
The single flower could be given to a teacher, counselor or any other staff member in the building. The purpose of giving the flower is to simply thank a staff member for helping them out during a rough time or just making their years. This tradition gives seniors a chance to show appreciation for a staff member as they finish off their high school years. 
 "It felt really awesome to give her the flower since I knew she would love and appreciate it," said Considine. 
All seniors got let out of class 15 minutes early to grab their flowers and visit that certain staff member. While letting different classes out one at a time to follow safety precautions, the tradition continued and was successful. 
"Mrs. Minton truly cares about all her students," Considine said. "Making sure they learn and know the material, which I really appreciate."
Last year's seniors did not continue the tradition last year due to the Covid-19 shutdown. Even though this year's seniors had their junior year cut short last year and being online for the whole first semester this year, they still got the opportunity to give someone a flower.  This tradition is the seniors' last chance to see the staff one last time before leaving.
"To know that what we do is appreciated is one of the greatest gifts students can give to their teacher," said Minton.