Vermeulen awarded at NAIAS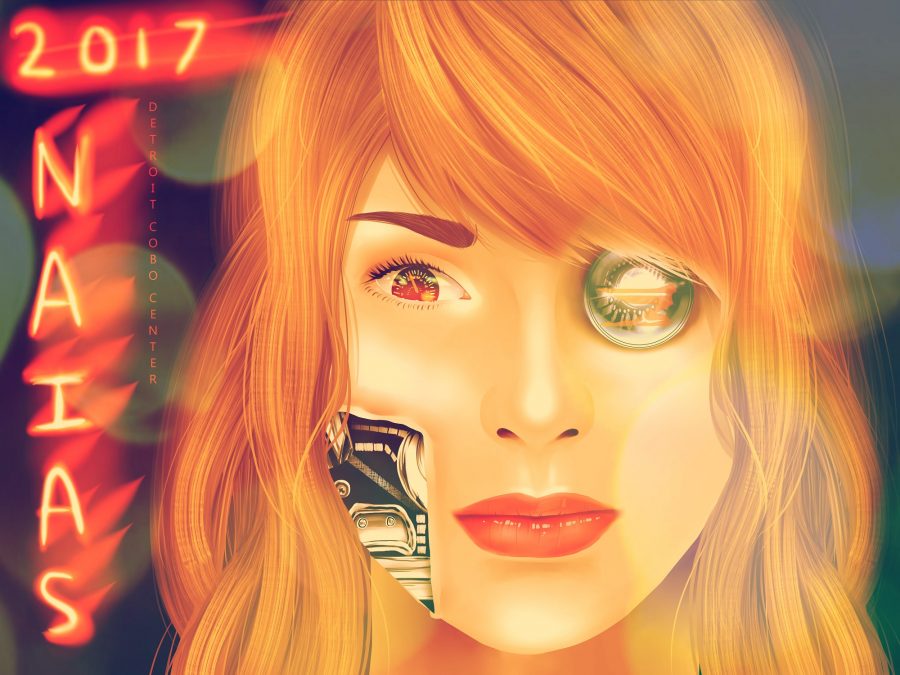 As the North American International Auto Show (NAIAS)  approached, about 800,000 people commuted to Detroit to appreciate the event; junior Lauren Vermeulen, however, attended for a different reason: her award-winning poster was on display.
"I sketched out two designs," Vermeulen said. "I stopped working on one, because I thought it was too playful. The other one, which I used, was kind of different. I didn't do what I wanted to do, but I thought of something better. I replaced different parts of her face with car parts— one of her eyes was a speedometer and the other one was a headlight. And then she had an engine on her cheek, which was cool because I never did anything chromatic before."
Students were asked to devise an idea for their projects and review the rules: it needed to be generic vehicle-wise, include their logo and certain information. The pieces were then mailed and evaluated by an independent panel of recognized representatives from the art community, according to the NAIAS website.
"We submitted five posters, so to have one of our students win that was pretty amazing," art teacher Josephine Braun said. "There were 890 submissions, so to be one that has won an award says quite a bit, I think.
Vermeulen earned a $500 award for the competition and received tickets for the auto show.
"As far as students who are working with Photoshop and Illustrator, she, in particular, is extremely creative with using the drawing tablet, which we just received," Braun said. "I think that really gave her an edge— especially for the fact she's very good with her elements of art; she balances her items well and is extremely innovative and creative in her thinking."
Vermeulen's creativity is not limited to her art classes; it spreads to other aspects of her life as well.
"I used to love grading her papers, because I was never quite sure what kind of cool character she was going to have on there," English teacher Justin Luce said. "She put a lot of effort into it and it's always nice to see the students have that creative side come out, because you can see the true talent they have. You don't always get to see that when you don't teach in an art class."
Vermeulen first became interested in art when she was a little kid, with coloring books.
"I thought working with color was cool," she said. "I just started trying to draw my own things. I couldn't draw people at first; but once you start something and you keep going, you just end up getting better."
She hopes to further express her creativity in her future by using her more than 30 characters in movies.
"I want to be able to make my own animated movies," she said. "I want to get to the point where my art in on movie screens, working for Disney or Pixar. If not animation, I want to be a movie director or a graphic designer."
About 230 million Americans go to the movies at least once a year, according to Motion Picture Association of America statistics; But Vermeulen plans to sit in the audience to see her name roll in the credits.