Icing on the cake for art students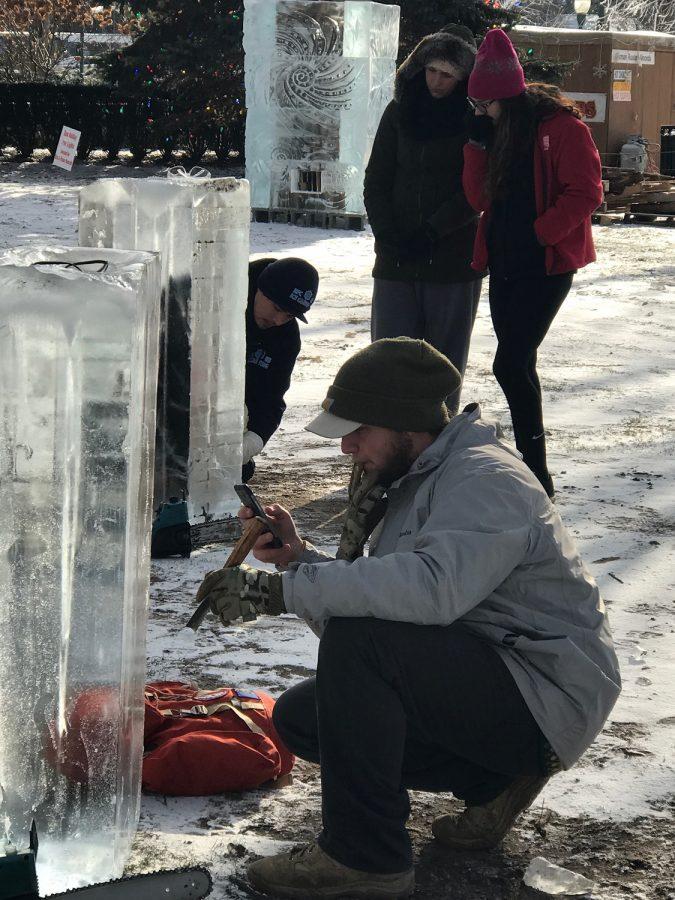 The temperature in Plymouth, Michigan, was 31 degrees. Just enough for water to freeze. Art teacher Jennifer Ramirez's 15 students chip away at the ice, striving to produce a masterpiece.
"I think it's nothing but beneficial," Ramirez said. "They had an experience they maybe never had before. I think they learned a lot about cooperative learning and working with someone else to create the sculpture. A couple of them were very intrigued by the experience and may even pursue [sculpting] for a career."
Ramirez, who grew up in Plymouth, brought her students to the local ice festival. The event consisted of mostly students from community colleges; Eisenhower students were the only high schoolers present. Instructors from Henry Ford Community College taught students the different sculpting techniques.
"At first, the instructors had plans as far as what we were to sculpt," she said. "But these are art students and we'd already talked about what we wanted to do. The students wanted to do what they wanted to do and they [instructors] rolled with it."
Students received of press for their participation in the festival, featuring on the Plymouth Ice Festival Facebook Page, The Observer Newspaper, hometownlife.com and the Detroit Free Press.
Senior Natalie Thomas sculpted a flamingo and was featured in a Detroit Free Press article about the Festival.
"It was really cool to see it," Thomas said. "I didn't think it was going to come out as good as it did. It was one of those things that I thought wouldn't look as good as it did in my head. It was really cool to see it come out in 3D, instead of just a photo."
After sculpting with clay before, sophomore Adam Janicki attended the ice festival for the opportunity to experience something new.
"It was different than regular sculpting; instead of adding stuff, you're chipping stuff away to make your piece," Janicki said. "It's a good way to get kids into different types of art; because, for some, that's a real career [prospect], so it's a good idea to get other options of what you can do with it."