Grandson review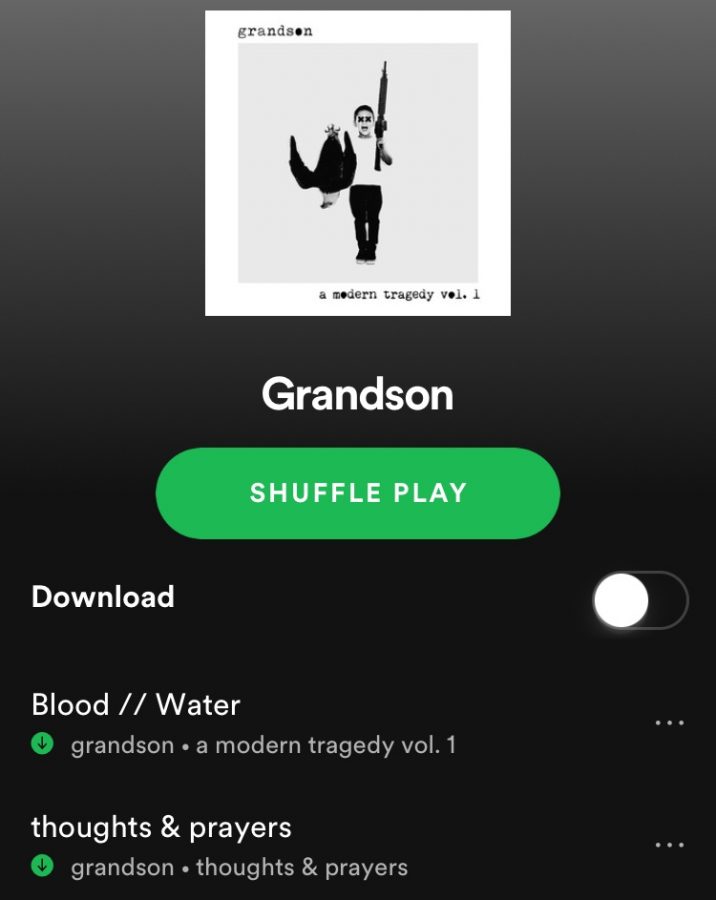 Meaghan Murphy, Staff Writer
May 24, 2019
Underrated artists are everywhere, including Grandson, a 25 year old Canadian-American singer, songwriter, and musician.
Grandson, Jordan Edward Benjamin, was born in New Jersey on Oct. 25, 1993, and moved to Canada at the age of three. He initially wanted to be a teacher, but started DJing in college. Grandson later dropped out and moved to Los Angeles in hopes of pursuing a music career.
Grandson's music genres are alternative rock, alternative hip hop, trap music and EDM. His most popular song is "Blood // Water," which has over 70 million downloads on Spotify. The song has a good rhythm and beat to bang heads to. This song is based off his anger and feelings towards corporate greed and political corruption. His political views being expressed in his music makes his songs and him as an artist, that much more intriguing.
His music can be listened to anywhere; at home, in a car or at parties. His music has an energizing beat, along with a powerful message. When listening to his music, there is no other choice but to listen to the lyrics and really interpret them.
Grandson's song "Thoughts & Prayers" is about American gun laws and mass shootings in which it was released after the Marjory Stoneman Douglas High School shooting. In his lyrics, he talks about politicians who smile for the press but don't do anything to change what is wrong. His lyrics give a good view of the problem and everything surrounding the problem. It also expresses how thoughts and prayers are appreciated, but can't bring back what the world has lost. The song can get someone in their feelings easily, yet still be put on repeat.
It's refreshing hearing someone talk about political and societal issues and acknowledge its existence. Grandson's music is not for everyone, but the world is grateful to have his voice and views being expressed in such a modern and entertaining way.