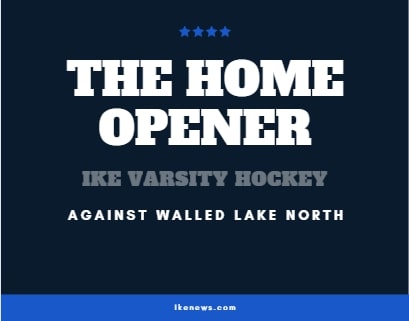 Skating onto the ice for the home opener, the varsity hockey team tied 2-2 with Walled Lake Northern. 
"Tying them for the second year in a row is devastating. After getting the first goal, I thought we were going to win this one," forward junior Gabe Hosu said. "Unfortunately, we couldn't get the win as a team."
This game took place at Suburban Ice Macomb on Friday. In preparation, they focused on skill development and puck movement during the pre-season.
"I am most looking forward to seeing how the players respond to learning the (newer) systems we are trying to implement with this year's team," varsity hockey coach Robert Hall said.
According to Hall, the team's strengths are their ability to transition into offense, handle the puck and maintain speed. The team's skill lacked more in defending and covering defenses which ultimately contributed to the tie.
"As a coach, I am confident with the ability our returning players possess, and the newer players we added should complement our returning veteran players," Hall said before the game.  
Going into the opening game, Hall felt confident about the team and their abilities to work together. Despite tying, they have high hopes for the rest of the season, according to Hosu.
"It felt amazing to get out there and play and show off what I can do, but most importantly what the team can do," Hosu said. "It's only the first game, so there's a lot more to come."