A show to remember
This year's Super Bowl halftime show performers will do better than the years passed although there are five performers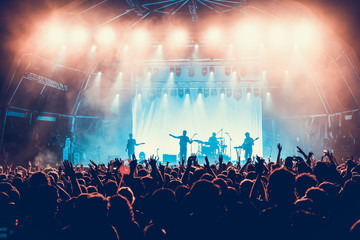 Football is not understood by all, but music is; the halftime show is for everyone and this year's halftime show will be better than years passed.
 The Super Bowl has an average of 111.9 million viewers throughout the game and peaks during the halftime show with an average of 115.5 million views, according to Business Insider. With the large number of viewers, the performers can feel pressured to bring their all, but if anyone can take on this challenge it's Eminem, Dr.Dre, Snoop Dogg, Kendrick Lamar, and Mary J. Blige.
Unfortunately, last year's halftime show performed by The Weeknd  was disappointing. Since The Weeknd specializes in mainly RnB, some of his song choices were too moody for the occasion and he should have had a guest singer with him, according to New York Post. His music sounded repeated and bored the audience since it was his voice the whole performance. By having multiple performers in 2022, the crowd will not be bored because they are hearing a variety of people singing the 20 to 30 minute performance, just like J. Lo and Shakira's performance in 2020.
Although this year's lineup is liked by many, not everyone likes rap. 2000-10's rap is not a popular choice picked by a majority, but two of the performers are LA natives, according to NY Post, and LA is the location of the 2022 Super Bowl. However, these artists have a combined total of 119,233,337 monthly listeners on Spotify, according to Spotify. 
This year's performance differs from the past and having multiple performers is a risk. As we know, no risk no reward, and the reward is the great performance those who watch will get to experience.