Fall fashion trends turn over a new leaf
Seasonal fashion trends emerge in a virtual world
School starts up again, the weather begins to cool down and just like that, it's fall again; along with the countless abnormalities the world continues to encounter, this season's fashion trends seem anything but ordinary.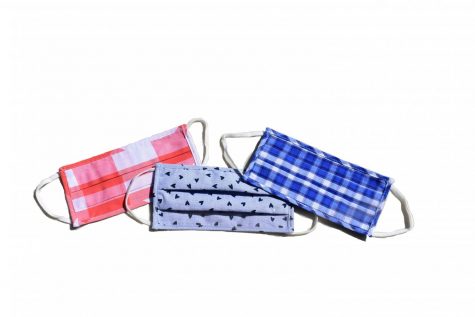 Masks
Starting in the spring of 2020, masks evolved from precautionary doctor's equipment to a global necessity used to lower the chances of contracting the Coronavirus. By making the best of a less than ideal situation, masks became a trend, as many began matching them to their outfits and even using them as a statement piece. The variety of different colors, fabrics and patterns provides wearers with an added option for accessorizing and encourages self-expression through whichever mask one chooses. After all, why not look great while staying safe?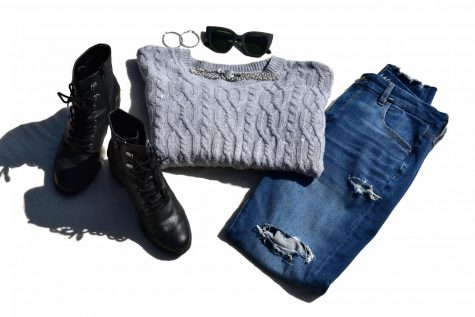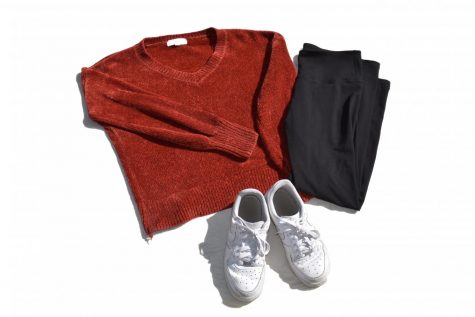 Sweaters
When one thinks of fall, a few key things almost always come to mind: pumpkin spice, Halloween and, of course, sweaters. Keeping a sweater or cardigan nearby on fall days is essential, especially in Michigan, where weather often ranges from 40 degrees to 80 degrees in just one autumn day. Layering a sweater or cardigan over a short-sleeved top or camisole prepares for any sudden shift in temperature. This year, both cropped and oversized sweaters are on trend. Try styling a cropped sweater with some high-waisted jeans and booties or heels for a dressier look. For something more comfortable, pairing an oversized sweater with leggings and sneakers, such as: Nike Air Force 1's, creates a low-effort outfit that still looks stylish.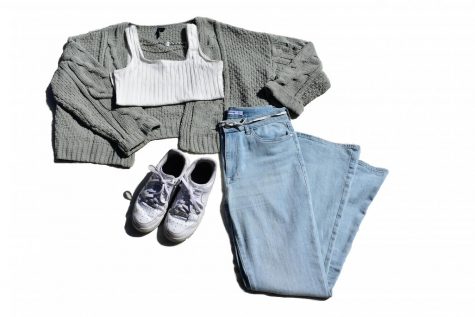 Jeans
Goodbye skinny jeans. Yet another 90s trend resurges, with teens trading in fitted jeans for looser pants in straight, wide and flared cuts. With options in both high and low waisted styles, loose cut jeans flatter body types across the spectrum. Paired with a cropped, tighter top—or what some Tik Tok users dubbed the "big pants, little shirt" combo—brings a modernized twist to trends worn by current wearers' parents. Or, for full 90s nostalgia, pair bigger jeans with an oversized T-shirt and low-top sneakers.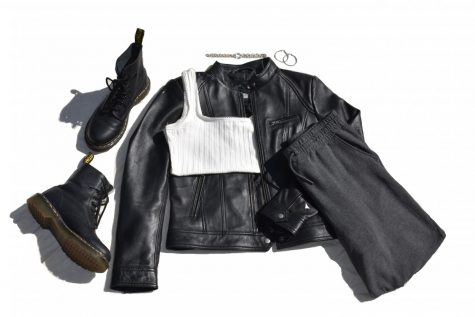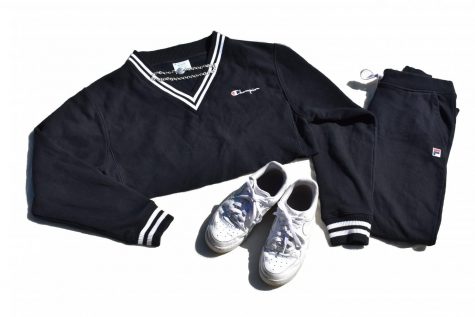 Sweatpants
The switch to online schooling may be a large adjustment to students' lifestyles. Learning and socializing from a desk, bed or kitchen table changes how one goes about everyday functions and some view it negatively. However, add a little positivity by taking advantage of all the benefits that come with only being seen from the shoulders and above. If sweatpants weren't a school staple before, make them one now. Ranging in colors and styles, sweatpants aren't a sloppy option for lazy days anymore, but a fashion must-have that provides a great base to any outfit. Worn with a camisole or bodysuit, an outerwear statement piece such as an oversized blazer or leather jacket and completed with matching gold or silver jewelry takes sweatpants from plain to comfy chic. Of course, for those low energy days, a sweatshirt-sweatpant set is always an amazing option and prepares for any spontaneous power naps between virtual classes.
Accessories
This year's accessories are anything but ordinary. Since most interactions take place through a screen at the moment, dressing up an outfit with bracelets, rings or anklets doesn't exactly seem necessary. Instead, consider accessories that not only complete an outfit, but adapt to the newly virtual world. Blue light glasses frame a face while protecting eyes from strenuous light emitted from laptops and phones and will be especially helpful during late night study sessions after already spending six hours of classes staring at a screen. A new laptop bag to replace the plastic sack school laptops were delivered in is a great investment for both the student and the computer that holds their entire education for the year. Whether going to a friend's house for homework help or studying at the nearest coffee shop, a laptop bag ensures computer safety and serves as a stylish, yet practical substitute for a purse or bag.
Whether choosing to stay with the trends this fall or deciding to display unique styles that completely reject them, it's important to stay safe, stay healthy and of course, stay fashionable.