Fall play looks different this year
Theatre cast prepares for a new year virtually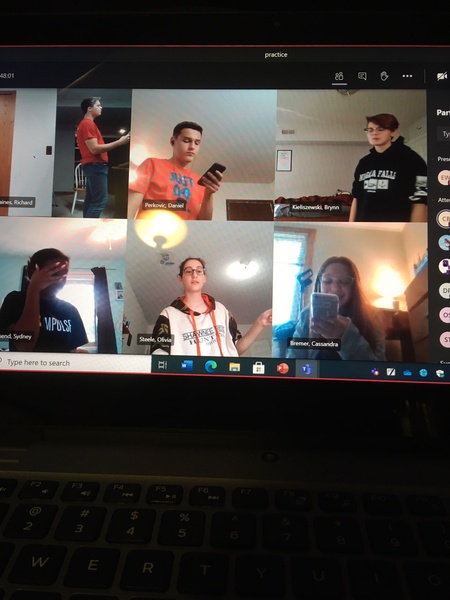 Drama students and teachers get back in the groove of things as the fall play starts, but things aren't the same because the fall play is taking place virtually.
"It's not exactly what we wanted, but it is a great way for the students to bond together and be social through a virtual medium," drama teacher and director Eric Wells said. "I am looking forward to working with them all again soon."
The pandemic put a pause on a lot of school events and gatherings so the fall play can happen despite the circumstances thankfully. Video editing becomes used to put together the play and the backgrounds that go along. The movie type format becomes useful to tie it all together.
"The hardest part will be getting all the files together and editing it into a movie format," Wells said. "Plus, the miss of the comradery will all build when working on the show."
Auditions for the play took place Sept. 9 and the process followed up with callbacks on Sept. 10."We had the auditions through ZOOM and TEAMS, so they all auditioned together on a big video chat," Wells said. "It was great seeing them perform again." 
All of the students attend virtual classes and use TEAMS daily. Some factors of putting together the play became simpler considering students attend online school.
"Last year we were building a two story grand staircase set for 'Phantom of the Opera' and this year there is no in-person tech," Wells said. "In that aspect, it is easier; but trying to get all of the video editing and all of it together is time consuming and stressful."
As the cast and crew practice and prepare for the play, many people get excited that one is happening this year. The cast and crew meet every day and do a different scene every day so not every person is needed all the time.
"Even though it's definitely not how I wanted it to be for my senior year, I'm so grateful to have this chance to act again. I miss regular rehearsals where we were all laughing, hugging, messing up, helping with set building and doing crazy antics," senior Sophie Considine said. "I'm most looking forward to seeing it all put together and knowing that I am part of the original cast of the play is insane. I'm super happy the play is happening this year."