Lee leads in life
Senior student council president Isabella Lee shares her passion for leadership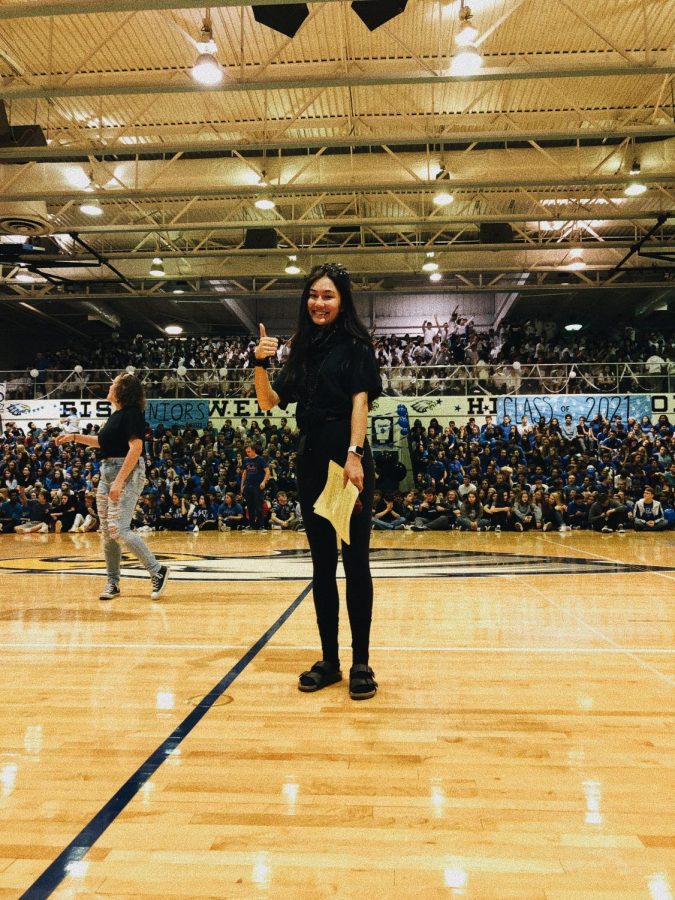 Marching into a board of delegates meeting, senior student council president Isabella Lee resets her mind for the six hour long meeting to come where they collaborate on promotions for programs, like Ok2Say.
"I believe leadership is influence and not authority," Isabella Lee said. "It's something where you need to make sure that you're leading by example. When it becomes authoritative, it starts to become not authentic. To lead, you really have to use it as a lifestyle and not just be demanding and be bossy. Leadership is however you want to put it and there's no right way to leadership; there's no wrong way to leadership. In my personal opinion, it's leading by example and doing it with influence over the community."
Lee first got involved with leadership when she joined student council at the start of high school, following one of her best friend's footsteps. This first step led her to her positions in leadership sophomore representative her sophomore year, junior class president in her junior year, student council president, a member of the Michigan Association of Student Councils, Honor Societies' (MASC/MAHS) board of delegates and a leadership role with MyLead and Junior Leadership Macomb.
"I grew up dancing my entire life and I stopped when I was a freshman; it was weird not having something that I was really in. I joined Student Council because my best friend, who's a couple years older than me, was doing it and I wanted to see her more. I loved being involved with everything [and] watching other people enjoy the work that we put on," Lee said. "[I] realized the benefits of leadership, the impact that you can make on other people and the ways that you can help other people, other schools and other communities."
Student council advisor and U.S. history teacher Amber Bronson saw the change in Lee throughout her time at Eisenhower. Specifically, she saw Lee's change in her view of leadership.
"Her understanding of what leadership is and how it plays a role in your day to day activities is much more mature," Bronson said. "It's not the idea of planning a dance or collecting canned foods. She understands that it's the idea of truly being a role model to one's peers and being able to understand what being a true leader really means."
Isabella Lee, being a part of staff at a leadership camp, incorporated her own philosophies of leadership into the activities she led.
"[At] leadership camp, we created an activity that talked about citizenship and digital citizenship that sometimes go over kids' heads nowadays and it's so cool to sit in a debrief with about 60 kids and talk about how they're feeling and the experiences they went through," Lee said. "It's so cool to see at least one personーthat's always our goalーhad that 'aha' moment. We know that we did something right and it's the coolest feeling to know that you made an impact on someone."
Lee made an impact on the members of student council because at the end of the 2018-2019 school year, student council held their elections for the executive board of the 2019-2020 school year; Lee won the election for president. Because of this, Lee got the opportunity to grow her leadership abilities further.
"When Bella became student council president, I think she had the idea that she simply just had to run meetings," Bronson said. "As the year went on, she realized that she really needed to be able to get kids to focus on the fact that there was more [to leadership] than simply just planning events. [She makes] little activities and things like that at the beginning of [meetings] in order to make sure that kids are in fact connecting and understanding who each other are."
Knowing the people one works with makes teamwork easier and tasks accomplished smoother, according to Robert Half International. Based on what Bronson observed, Lee uses this philosophy.
"She likes the process of actually working with kids to make sure things happen and being a part of the brainstorming and the thought process that goes along with it," Bronson said. "In the past, I've had student council presidents who simply just like to delegate tasks to other people and to be the one who rules or oversees. I think a really good student council president wants to get their hands dirty, wants to be a part of the entire process and hasn't forgotten what it feels like to be an incoming sophomore knowing that you're going to get—for the most part—some of that grunt work trying to figure out how to run an event on your own."
Lee administered and involved herself with multiple events in her leadership career and she plans to continue this involvement in the future as she goes to college and beyond.
"I've gotten to the point where this is all I can handle because it is a lot," Lee said. "But with everything that I'm in, I tried. I put as much as I can into it, which is no less than a hundred percent because I don't think it's fair to myself or other people if I don't."