Swim team dives with new coach
New coach Brian Cahill takes over the swim team for both mens and womens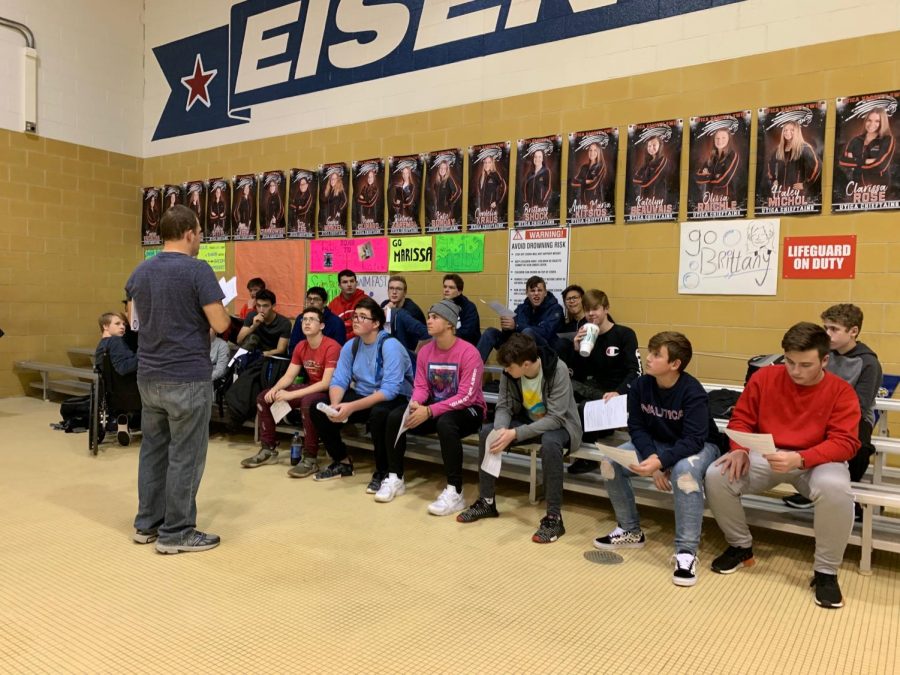 The sound of water splashing against their ears, the heat hitting their foreheads and the smell of the chlorinated pool filling their noses, the new and returning swimmers alike express excitement in anticipation for the new season.
"I think overall he's going to perform well, but the team is not going to have the same type of chemistry," senior swim team captain Alex Trendov said. 
Swim coach Brian Cahill held an informational meeting on Nov. 4 for the boy's swim team. The meeting shed light on the day to day for the new season and other requirements needed to join the team.
"He's very committed to the job that he's doing," principal Jared McEvoy said. "Very committed to the team, to the student athletes and maintaining a high level program that has been in place for a long time," 
The previous coach, Lisa Doherty, resigned from her position after last year's season. Although new coaches for any sport face challenges, Cahill is motivated to coach and form team cohesion with coaching the boys season, according to Cahill.
"I've found in the past that there's not a whole lot of team cohesion and I'm trying to implement that, so that everybody can really support more; they can learn more," Cahill said. "There's more energy in the practices, so that we can have much faster, stronger swims in the beginning, middle and as well as the end of the season." 
Cahill implemented many changes to the daily practice for the swimmers compared to last year, including: 5:30 a.m. practice Mondays and Thursdays, practice from 2:30 p.m. to 5:00 p.m. and a mandatory morning practice on Saturdays for varsity swimmers.
"Well, [I'm] kind of excited for the morning practice," junior swimmer Russell Milne said. "But it will be fun to see what's going to happen and it will be exciting for all of us,"