Can drive thrown for LCCE prom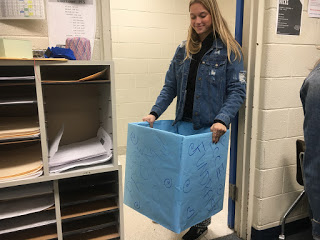 The Life Centered Career Education program lost their sponsor for their annual prom thrown by the Project Unify club and are now organizing a can drive in school in order to complete funding.
"We were funded by an organization that unfortunately had some problems over the course of the summer. They weren't able to do the fundraising that they usually do, and last year they gave us $6,344, which is what we're trying to come up with so we can keep the cost the same. The banquet hall prices have gone up and and we just want to keep making it [the prom] better, not go backwards," special education LCCE teacher and Project Unify club sponsor Kristin Oprita said.
Boxes to hold donated cans are located in 33 classrooms where teachers chose to participate and will possibly be in the commons on Fridays. All proceeds will go towards funding the event and meeting the club's $6,344 goal.
"We throw a special needs prom every year and we try to keep the cost down for the students because their families have different costs for different things as it is," Oprita said.
Participating in the drive will help lower costs for students who seek to attend the prom.
"We should support all of our programs. We're a community and this is a great opportunity for some groups to come together," principal Jared McEvoy said; "It's a great experience and a fantastic opportunity to do this."