New National Anthem singers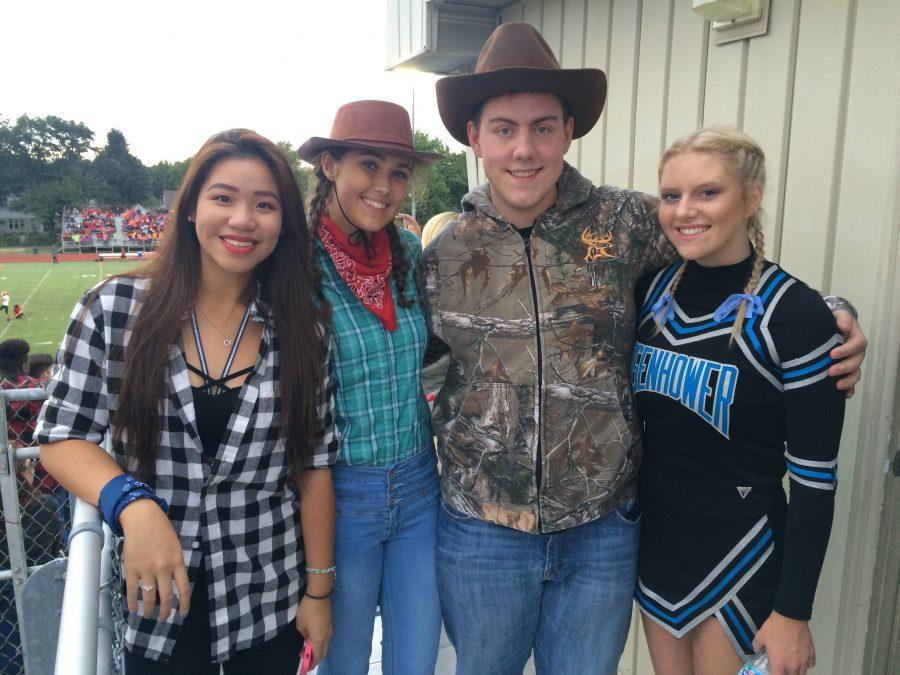 What is it like singing the national anthem?
Vivian Leung '17: "It was a super surreal moment having everyone on the stands stand up to hear you sing and the pride that I felt, getting to represent Ike."
Brooke Coleman '17: "It's so much fun, just such an honor and a great experience!"

Zack Brock '17: "Singing the national anthem was nerve wracking at first, the idea of performing in front of hundreds of people."
How were you feeling the first time you sang?
V: "It was kind of nerve racking. The four of us were chosen a day before the game, [so] really we only had Friday after class to practice; but at the end, we pulled through and I think we all did a pretty good job."
B: "The first time we sang at a game, I was a little nervous; but as soon as we got into it, it was great."

Senior Kerigan Murphy: "very nervous but it was super cool because i've always looked up to the people who did it before me"
What are you most looking forward to over the next few home games where you'll be singing?
V: "I'm mostly looking forward to the whole euphoria of excitement, how everyone is crazy pumped and it's just a super high energy event"
B: "I'm most looking forward to us improving as a quartet, all of us getting stronger on our parts and more comfortable so it can sound even better"
Z: "Singing the national anthem at every home game, not just football games. I hope I have the honor to sing the national anthem with my fellow anthem singers at the state finals for either sport.
Is there anything you would like to add?
V: "It's unbelievable to think that I would get to be in the senior quartet with three of the most amazing singers. I remember when I was a sophomore and I saw friends that were older than me sing at graduation and now knowing that I'm going to get the chance to do the same thing makes me a little emotional because it's also the beginning of the end"
B: "Nope"