Yoga club ends for the Year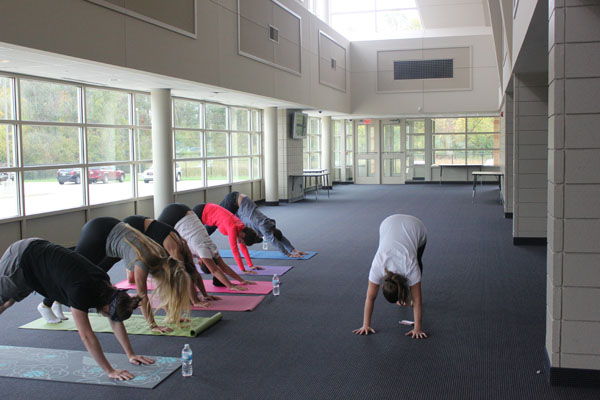 After 15 weeks of practicing yoga, relaxing and focusing breathing, the yoga club gathered for the last time on Monday the 7th.
"The yoga club was really fun and relaxing, and I am glad I went throughout the year," junior Savanna Cooper said.
In celebration of the weeks members spent together they participated in one last yoga session. After practicing yoga for an hour the club members rewarded themselves by eating Jimmy Johns and Hungry Howie's in the PAC lobby.
"We had one last yoga class had gifts and gave away yoga mats for members," junior Yoga Club President Brandon Tomayko said.
After eating, the yoga instructor, Karolyn Tomayko, gathered all the members and handed out awards like "Came to the Most Meetings" or "Most Improved". There was also a raffle and the winner won a free massage.
"It is sad to know that the yoga club is not going to meet anymore,"Tomayko said.
The yoga club member's worked extremely hard and learned a lot of new poses throughout the 15 weeks according to Mrs.Tomayko. Unfortunately, the class was only intended to last a mere 15 weeks, but students can anticipate another class next year, according to Tomayko.
"I am really sad that the yoga club isn't going to meet anymore because it was a really relaxing club that made my Mondays enjoyable and started the week on a happy note," Scooper said.