What's coming with homecoming
Sept. 13 kicks off the annual homecoming festivities
Spirit days. Pep Assemblies. Football games. Dresses. Suits. Music. Memories. All of these are around the corner: it's homecoming time.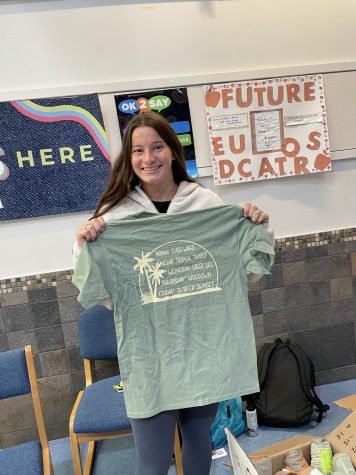 "I am excited that homecoming week is happening this year because I haven't had it since my sophomore year and I am a senior now," senior Madison Rudover said. 
On Monday, Sept. 13th student council hosted an outdoor pep rally, for the first time, on the practice field. Despite the initial rain in the morning, which resulted in a single pep assembly for all grades in the afternoon, students gathered in the stands and flooded the track to cheer on the homecoming court, athletes, watch performances by the cheer and dance teams, and participate in class competition games. 
"The pep rally was so much fun yesterday and it got everyone excited for homecoming week and it made me feel a part of the big high school events because i'm a sophomore so it's my first year," said Katherine Caruso. 
Homecoming week also presents a spirit week with the "Surfs Up" theme. Monday is "Class Waves", Tuesday is "Tropical Tourist", Wednesday is "Greek Life", Thursday is "Hoedown" and Friday is "Surfer Sunset". Each day, students and teachers are encouraged to participate and wear clothes to fit that day's category, as well as check out the lunch games. 
"I'm excited because it's our first homecoming. It should be a lot of fun," sophomore Alissa Sievert said.
To cap off the week's festivities, there is a home game at Swinehart on Friday at 7 p.m. and a dance on Saturday from 7-10 p.m. outside on the football field— under the stars. Tickets need to have been purchased in advance through the Student Council.  "Council's goal this week is to get the school excited for the game and dance," said senior student council president Mallory Waligora. "Everyone has been doing their part to make it a really fun week for ike!"