Is a four year university right for everyone?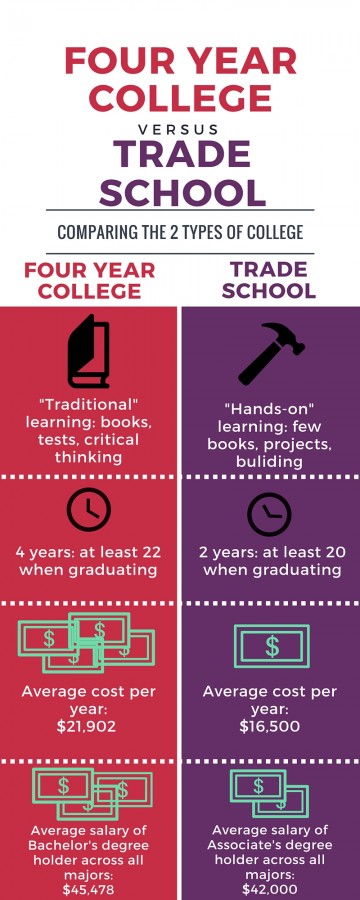 About 66.3 percent of Ike's class of 2015 613 graduates, 406 attended a four year college.
This leads to the question, should everyone attend a four year college?
"You can be successful without going to a four year university," counselor Tom Versele said.
If a student wants to attend a four year college, there is a way for anyone to get into one and be successful, according to Versele.
"Personally, I think there's something you get out of the experience for going to a four year school," Versele said. "You learn a lot about yourself, you try a lot of different things. At the end of the day though it really depends on the individual, it depends on what you want to go into."
Although it may seem that teachers and counselors are pushing everyone to go to a four year college, they aren't, according to Versele. Four year colleges typically go more in depth in a given subject area. There are usually more specific requirements for a certain major and classes are typically more difficult.
A four year college isn't the only path to success.
"There are a lot of great apprenticeship programs out there, or two year programs that you can get without having a higher education and be qualified to get a well-paying job without having to have a 4-year degree." Versele said.
Trade schools involve a two year program, typically including an apprenticeship. They aren't always a typical education. These schools involve hands-on learning, but students still use textbooks on occasion.
"[Trade school graduates] actually get out making more money than most students who leave [college] with a 4-year degree," Versele said.
Trade schools can range from a school for construction to cosmetology. And there are plenty of jobs for trade school graduates, according to Versele.
"Some people use Macomb or any other community college as a stepping stone," Versele said.
Community colleges, like Macomb Community College, offer two-year programs. Two years students can go into the workforce with the knowledge necessary to succeed or apply to a four year college as a transfer student. If a student has a certain amount of credits, the school they are transferring to won't take into account how they did in high school. Making community college beneficial for students who didn't perform well in high school.
With over 5,300 colleges and universities in the United States, it can be overwhelming for students to find information about them all; but with help from Naviance and other websites, it can be done.
"It's not "Everybody's gotta go to college, gotta go to college" I think 'everybody needs higher education.' [Do] something outside of high school and you're a lot more likely to get a higher paying job and to have a career than if you just have a high school degree."