Men's bowling advances onto bowling States
Dylan Kelley bowls to succeed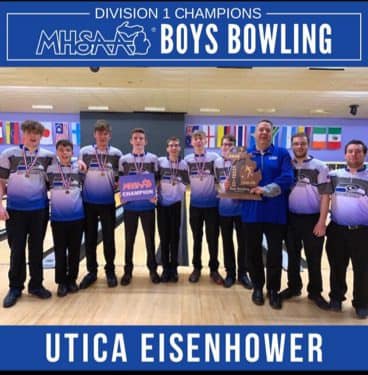 Many went to see the bowling teams battle it out at States and the mens Varsity bowling team devoted time to bring home the Division I state title, the first state title in the program's history; they ended with a 1,553 pin total overall.
"I felt great when I made it to states for bowling," senior Dylan Kelley said.
Earning a score of 299 in his final match at Regionals, Kelley qualified for States for bowling. He won first place in the individual Regional with a score of 1,394.  At State finals, Kelley battled for the win against junior Izaac Goergen from Midland, however Goergen pulled the win against Kelley. Kelley won the regional individual champion.
"I felt confident in my performance because I was doing good the whole day," Kelley said.
All in all, the Varsity bowling team took time to prepare for States, they worked hard in the end to get to their goal. They came and succeeded, bringing home a great new title to add to the school. 
"I was excited when I made it to the state finals," Kelley said. "The bowling team has impacted me by making me a better person."