Study places pop up
Find the ideal place to study for midterms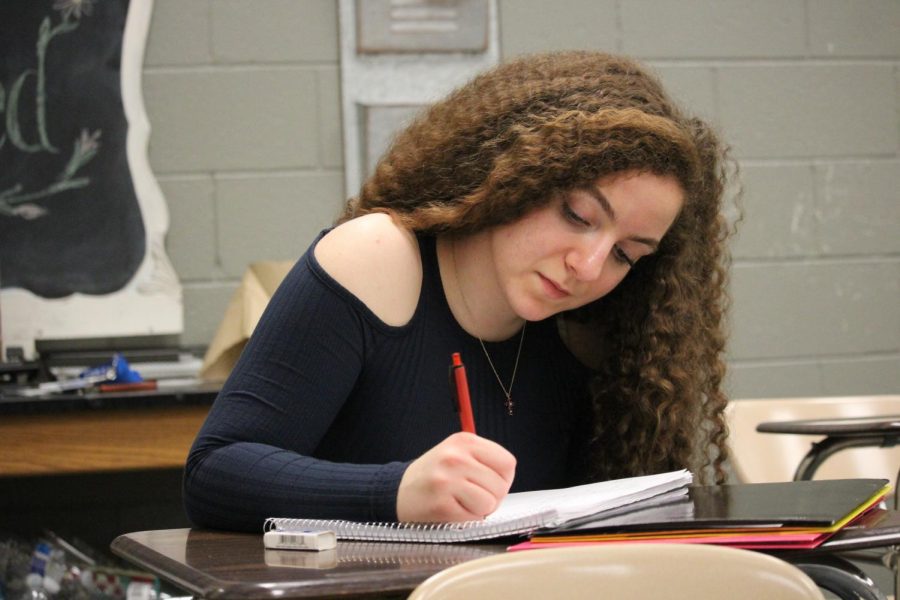 Sun streams through a window and soft music floats in the air while a student sits at their desk with books, review guides and flashcards out in front of them.
"I usually turn on some mood lighting, get some soft music going and I like to focus on whatever subjects I'm doing," junior Lucia Mancini said.
Effective studying happens in varying levels of sound; it depends on the person and the complexity of the subject or concept, according to brainscape.com ー a site dedicated to flashcards and studying.
"[The best place to study is] anywhere where you're comfortable or where you can concentrate," AP Psychology teacher Derek Berdeski said. "[For] some people it's the library; some people the bedroom, but honestly it's wherever you're most comfortable."
There are plenty of libraries and coffee shops nearby: Clinton Macomb public libraries, Shelby Township library, Starbucks and Sweetwaters Coffee & Tea. While some people enjoy studying with music, music usually doesn't strengthen a student's ability to remember concepts, Berdeski said. 
"I'll end up listening to more exciting or happy music when I'm doing my math or my science just because they're more difficult and I want to be more motivated; so I'll listen to my Travis Scott and Juice Wrld songs," Mancini said. "But when I'm focusing on English, I actually listen to instrumentals to random songs. It actually helps me to remember information I'm reading, which is from a study that I actually read a few years ago."
 A change in scenery improves productivity when studying, according to Penn State University.
"Throughout the week, in addition to my actual studies, I like to add an extra hour just to look at a few concepts per class before I end up going to sleep to go to school the next day. During the exam weekend, so the Saturday and Sunday, I usually study seven to eight hours just to make sure that I can understand and I'm getting information every class and not just focusing on one subject," Mancini said.
It's best to study for 15-20 hours per week, according to Birmingham City Exams and Revision. They suggest to try out studying for three to five hours per day ー excluding weekends ー and see if any changes need to be made to help more.
"I've noticed that when I don't focus and study as much, I don't do as well as I could," Mancini said. "When I really get into the zone and I focus I work hard, go over everything, redo worksheets and reread everything I possibly can; I noticed that I perform exceptionally well. That really makes me happy because it tells me that all the hard work I'm putting in is working."