Toys for Tots success
The annual Toys for Tots event and telethon is hosted by Student Council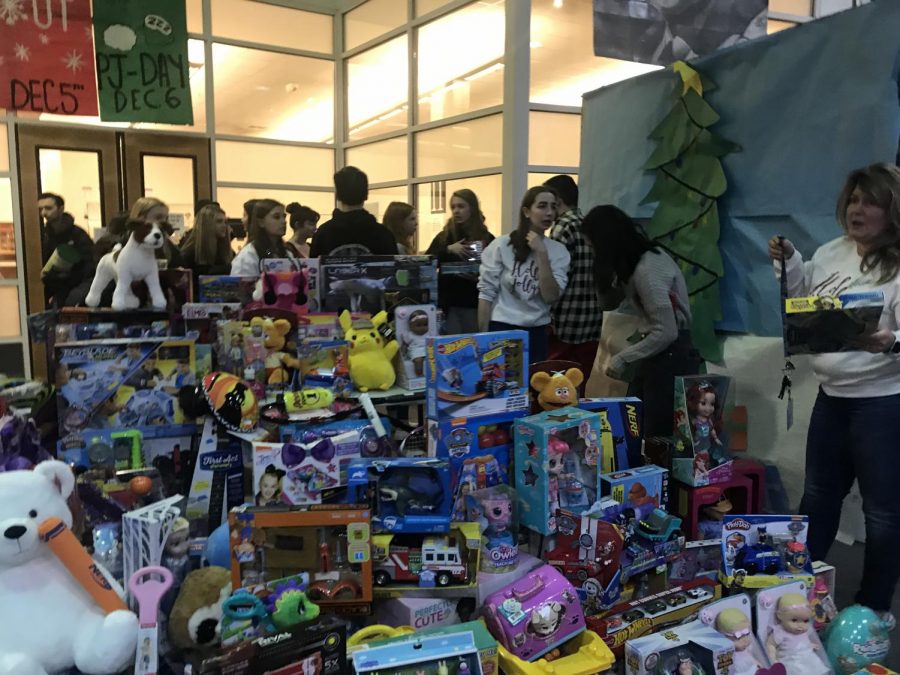 RUN! For the first 15 minutes of each hour, students participated in the annual Toys 4 Tots telethon and raised $13,648.97, $2,000 more than last year.
"I am very proud and excited about the results from this year," senior T4T event head Jordan Nacker said. "We exceeded our telethon total from last year by over $2,000 and overall I am so thankful for Eisenhower's support and contribution to this cause."
The school met its goal of $5,000 by fourth hour and in total raised almost $21,000 throughout the telethon, restaurant night, fundraisers, bottle drives, lunchtime games and bell ringing. Through the Marine Toys for Tots Foundation, the school community helps approximately 20,00 metro Detroit area families annually, according to toysfortots.org; and over 250 million received a helping hand since to organization's start in 1947. Student council hosted the telethon, which aided the help of over 20,000 families last year in need in the Metro Detroit area from the Marine Toys for Tots Foundation.
Venmo was a new donation option for the telethon. Students, and parents from home, used Venmo to donate from their phones. Senior Maxwell Casey donated $910 to win first place for math teacher Heather Dallings, sixth hour class. Choosing the inflatables, Casey stumbled, chipped his tooth and received a bloody nose on the first jump. Although this casualty hindered his time, it didn't crush his giving spirit.    
"It wasn't anything special, it was more about the donation," Casey said. "It's just a good feeling and I know it's the right thing to do."
Throughout the day, classes challenged each other for first place to earn a choice of two prizes. Prizes included: a movie in the PAC, inflatables in the gym, Big Apple bagels, Sky Zone passes, Menchies and more.
"We got second place and won the Stuco Breakfast," senior Emily Tschirhart said. "I was satisfied that we got second place, so at least we got a prize; but I felt bad for Mrs. [Josephine] Braun. She takes it very seriously."
Student council members used the money raised to purchase toys from Walmart, Target and other local large convenience stores. Presents such as: push cars, Legos, dolls and mor filled the overflowing shopping carts. The Marines brought trucks to school on Dec. 12, which student council members helped stuff full of presents. 
"I think it went really really well this year," student council advisor Amber Bronson said. "Every year it seems to raise in popularity. As far as kids participating, this year was no exception to that. We saw a considerable increase over last year and I think more kids are participating and the kids participating are willing to donate more and more money to help out the charity."