Band warms up for winter concert
The bands work on songs for their upcoming winter concert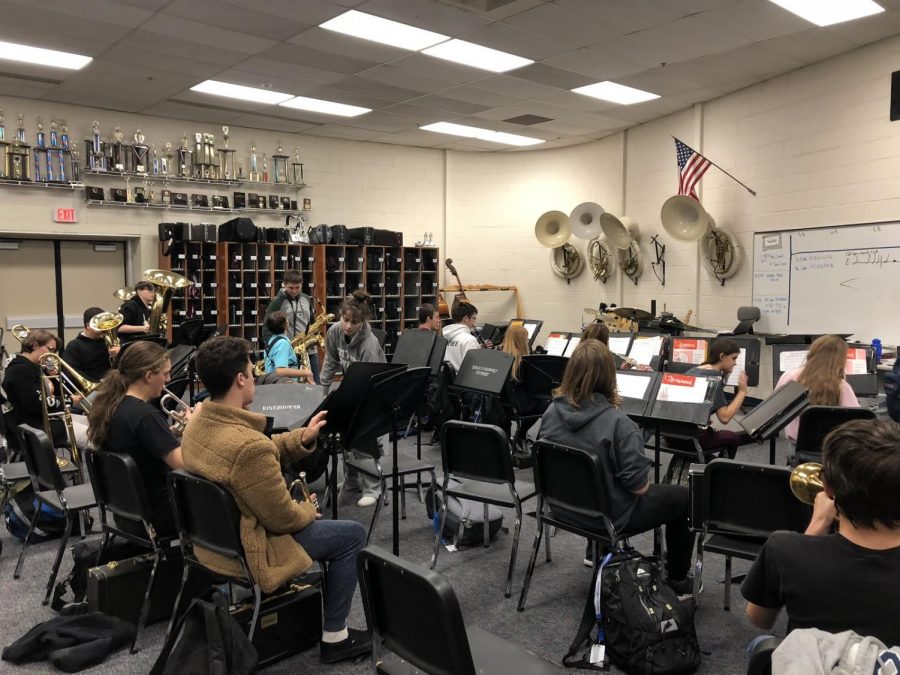 Ethan Gastmeier, Staff Writer
November 20, 2019
 The fifth hour concert band begins to play songs featured in the upcoming winter concert. "The song I think will be the hardest is 'Spirit of the Pioneers' due to how long it is and all of the areas to mess up in," sophomore trumpeter Nicholas Tidwell. The class tuned their instruments and practiced notes to get ready during fifth hour.
The students sit, ready to play and wait for instruction from the band director Jonathan Carrothers for the winter concert.
"I am most excited to play 'Spirit of the Pioneers' just because I think it's really fun, despite the fact that it's really easy to mess it up," sophomore trumpeter Nicholas Tidwell said.
The various band classes practice for an hour each day with classes going from third to sixth hour. These classes include: wind ensemble symphonic jazz and concert band.
"For songs the band should be worried about, 'Sparks' is definitely a song the band is having trouble with," sophomore tubist Michael Kieliszewski.
The winter band concert takes place in the performing arts center on Dec. 5. Each band plays three songs and the concert will last around one hour.
"I'm most excited to go play on stage," sophomore trombonist Mina Metzler said. "Since I'm a sophomore, it's exciting to play for an audience."