Snap on stage
West Side Story comes to Ike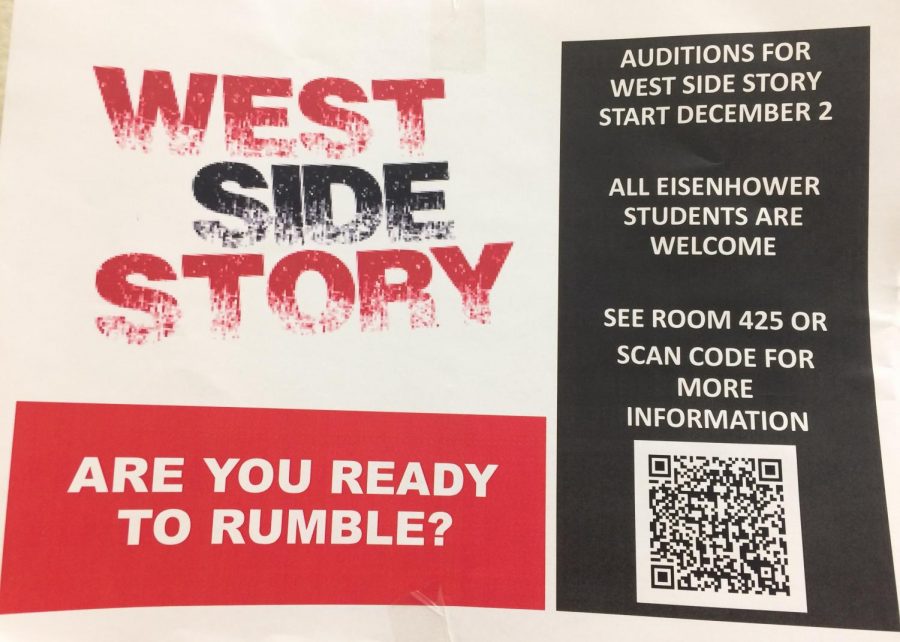 A poster catches a student's eye as they walk down the crowded hall and they save the dates, practice and make their way to what could be the best choice of their life.
"West Side story is one of my favorite musicals of all time and I think it's an important message about everyone getting along with everyone, trying to realize the ramifications of your actions and how to destroy bigotry and be able to get along with everybody," theater teacher and director Eric Wells said.
Auditions for the musical, "West Side Story," take place the first week of December from 2:30-4:30 p.m. Auditioning includes: choreography, held in the PAC on Monday, Dec. 2; and vocal auditions in the vocal room (425), which includes singing a one minute section of a song from the show and reading a scene for your desired role, according to Wells and vocal music director Julia Holt. The vocal auditions happen Tuesday, Dec. 3 and Wednesday, Dec. 4; callbacks are on Friday, Dec. 6. Sign up on the sign-up sheet outside of the vocal room. No sign-up is required for the choreography audition.
"[I am most looking forward to] the dancing even though I'm not very good at it. I'm looking to improve because that's what I want to do as a career, so to improve in that area would help me," senior Tristan Cacchione said.
"West Side Story," a "Romeo and Juliet" story with gangsters, is all about art. The fight scenes portray more of a dance than a fight. 
"[I am most looking forward to] the end scene," senior Addisyn Tokarz said. "[It's] not really the typical ending of musicals. They're usually very light hearted. So not to give anything awayーI  think people are not going to be expecting it if they don't know the musical."