2D art students erase their face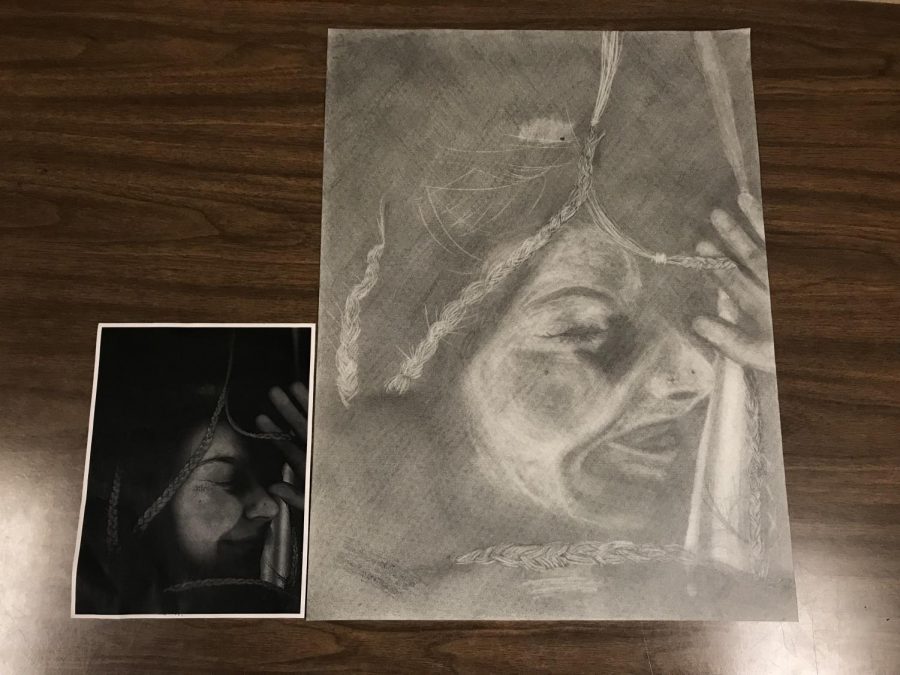 Madison DeMasse, Staff Writer
December 20, 2017
It hits like a wall when walking into the art room. The scent of soft graphite pencils overpower the senses. The tables are coated with 18 x 24 inch pieces of white paper as the art students work on their pieces.
It all started when art teacher Jennifer Ramirez brought back the "Trapped" project to the 2D Art class. After not teaching it in years and wanting to mix it up, she chose to try the project again.
"You get bored doing the same old projects year after year, so mixing it up is a lot of fun," Ramirez said.
To start, Ramirez told her students to make a face on the copier. The students could make any face they wanted, as long as they included their hand and face on the copy. After they smooshed their faces on the glass and copied their faces, they covered the enormous piece of white paper with soft graphite pencil shadings. When they were done shading, the students took a piece of paper towel and smoothed it all out. Then, they erased the highlights on the paper to create the photo they took from the copy machine.
"This project made me feel very stressed at times, because I had to make all the tiny details to make the project look realistic," junior art student Dana Marku said. "But overall, I had a lot of fun doing it, because it was a new project I've never done before."