Shoes and glow lead fifth annual race
Alumna's family hosts fifth annual glow run and walk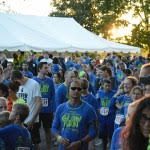 Five years of glow. Five years of The Race in These Shoes to raise money and awareness for a battle which affects 60,000 young adults, on average, in the United States per year, according to the American Cancer Society.
"We are always looking for ways to spread the message of the foundation to young adults everywhere, since cancer touches us all," said Chris Hines, alumna Cassie Hine's father.
Cassie Hines passed away March 1, 2012 following a long battle with Renal Cell Carcinoma, a rare form of cancer found in the kidneys, after being diagnosed her junior year. She lived her battle out loud and fought with a vengeance, according to Chris Hines. Her energy also fueled what became the Cassie Hines Shoes Cancer Foundation (CHSCF).
CHSCF is ran by family members and hosts two main events each year to fund activities organized by the foundation and send young adults to camps for those with cancer. In March, a dance is hosted by the foundation; later in the year, a glow run/walk is held.
"The foundation gains more exposure locally and nationally each year. This brings additional requests for travel assistance and the race enables the foundation to meet those financial demands," Chris Hines said.
The Race in These Shoes takes place at Stony Creek Metropark in Shelby Township on Saturday Sept. 17. The race kicks off at Baypoint Beach on a certified 5K course and begins at approximately 7:30 p.m.
"Each year, we add more glow items to the course; we want it to really light up," Hines said. "We are also starting the run a little later, so everyone will potentially be running in the dark for maximum effect."
For pre-registered participants, packet pick up takes place Thursday Sept. 15 at HealthQuest on Hayes Rd. from 3-7:30 p.m. Online registration closes Sept. 15 at 11:59 p.m. Race day registration takes place at Baypoint Beach at 5:30 p.m. For more information on registration and the CHSCF visit www.cassiehinesshoescancer.org.
"There's an amazing group of people inside and outside of Ike who help move us forward. For that we are blessed," Chris Hines said. "The lesson Cassie taught us is: you fight, no matter the odds, no matter the obstacles, because even by worldly standards, when you appear to have lost the fight, it is exactly the opposite– you won, by never, ever giving up."