Instrumental Music Fundraiser
Maria Chodnicki, Staff writer
February 27, 2016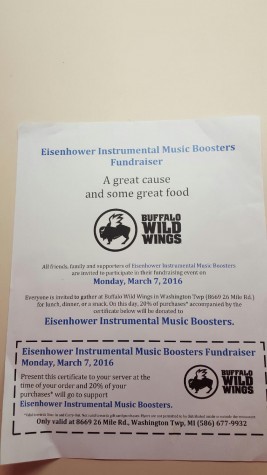 Support and fundraise at a restaurant for all who is welcome. The instrumental musicians have put lots of work into what they enjoy to do.
"The fundraiser is going to be a huge help on our funds for the spring Florida band trip and our other activities," sophomore Lexi Fisher said. "All of our hard work pays off in our successful performances."
It will take place at Buffalo Wild Wings on 26 mile road on Monday, March 7th, 2016. Anyone is welcome and it will support all students. The funds will go towards the Florida trip and other band trips or activities.
"The more support we can get the better," Fisher said.