Students prepare as boat races approach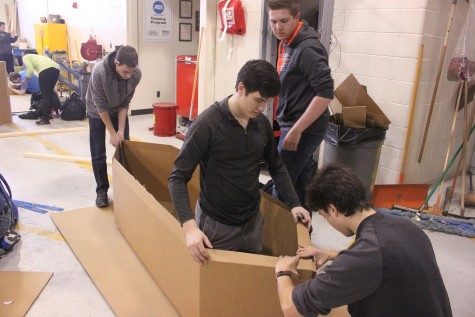 For the second year in a row, a  series of boat races will take place as a collaboration between Woodshop, Auto Shop, Design & Engineering and Physics classes.
"It's the Career Technical Education (CTE) students applying what they're learning in class," Auto Shop teacher Jeffrey Kment said. "It's students getting to work with another student and figuring out how to motivate each other and how to keep the process going along."
Students began building their boats on Feb. 22 and will have two weeks to construct them for the race on March 5, which takes place at the pool. They are given four sheets of cardboard, and packing tape. The boats can be four feet wide and ten feet long maximum, and the students can decorate the boats as they like.
Two paddles will be provided for each boat. There will be two students on the boat, out of their team of four, and they will have to go to the length of the pool and back. The winning boats of each round will move on and compete against winners from previous rounds. Students will be able to come and watch during certain hours.
"We're all from separate classes, and it's involving a lot of teamwork," junior Zachary Shafer said. "Everyone has to work together and determine what's best for the team and the boat. A lot of factors go into this and a lot of past experiences from different classes, so that really helps a lot."