Colorful cake
A classic recipe for people who love cake and enjoy baking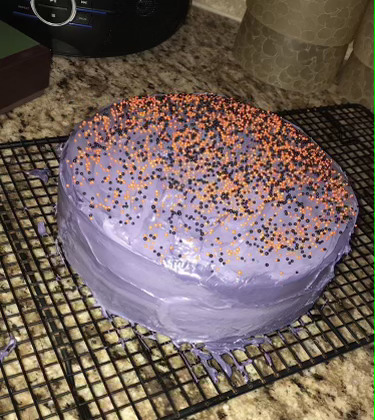 With all of these new and complicated cakes that can scramble a baker's brain, it's pleasurable to bake a traditional and enjoyable recipe.
Prep time is 15 minutes; but for any experienced cake baker, it's a breeze and a fraction of the time. The recipe also calls for convenient ingredients, which are typically already in the cabinet. This saves from an unwanted trip to the grocery store.
It was a pleasant discovery to find the cake moist and soft after baking. A dry and crumbly cake can be a cake lover's worst nightmare. Another flaw could've been not making enough to feed all the members of the household. Luckily with this recipe, that wasn't the case; the proportions fed 5 hungry mouths.
Artistic creativity includes a large plus to this recipe. Enjoy decorating the cake for any type of celebration—whether it's for a birthday, a holiday or to just eat a delicious cake. Design this cake with any frosting and sprinkles the baker desires. The color combinations for the frosting and sprinkles never end.
Most frostings combine amazing with this cake. Some frosting options include: buttercream, cream cheese, chocolate, whipped cream, glaze, fondant and more.
This recipe bakes up five out of five stars.
Prep time: 15 minutes
Cook time: 35 minutes
Total time: 50 minutes 
Ingredients:
Two sticks of unsalted butter at room temperature, plus more for pans
Three cups all-purpose flour, plus more for pans
One tablespoon baking powder
Half teaspoon salt
One and one-fourth cups sugar
Four large eggs at room temperature
One tablespoon vanilla extract
One and one-fourth cups whole milk or three-fourth cup heavy cream mixed with half cup water
Instructions:
Preheat 350 degrees 

Butter cake pans and line bottom with parchment paper

In a bowl mix flour, baking powder, butter, sugar and eggs

Bake in oven for 30 to 35 minutes

Cool for 10 minutes
Recipe by Food Network Kitchen