Trade for the Trades
College isn't the only choice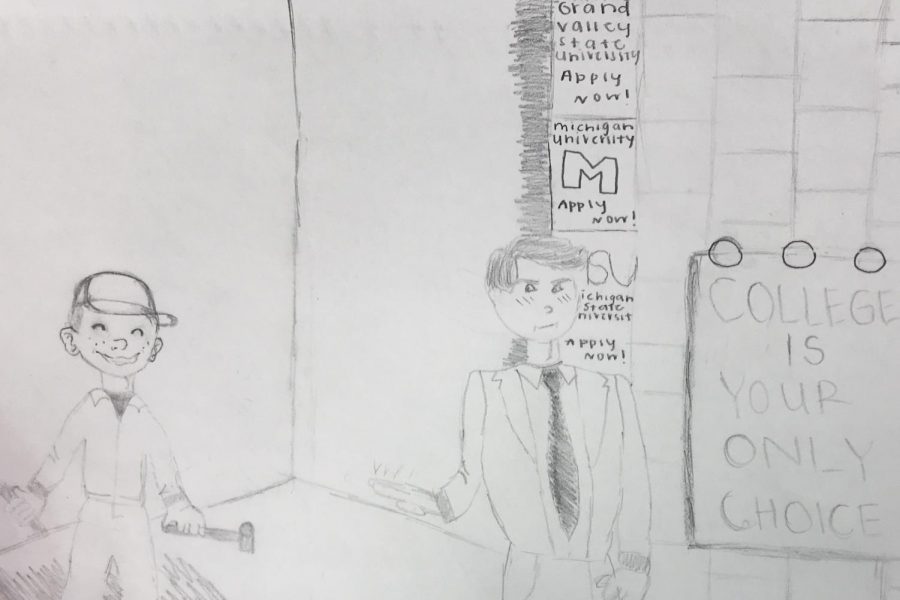 Publicizing college as the assumed option after high school happens quite often in schools, but it isn't the only choice and schools shouldn't limit high school graduates on their options.
People don't consider trade schools as an option. Oftentimes, they think the trades are useless and not needed in today's world, but that's a mistake. If trades didn't exist, many crucial tasks—for example, a nurses assistant—wouldn't exist and buildings wouldn't be built.
Thinking college is the only choice after graduation is a common thought amongst teens because of the lack of understanding of what the trades really are. More than half the 2018 graduates went off to college, according to the United States Bureau of Labor Statistics. But will that actually be the best choice for them? 
Once high school students finish school, students make a decision: go to college or don't. Would graduates go to college if they knew how much debt they would gain? After college, there is an immense amount of student loans and debt, which takes a majority of peoples' lives to pay off.  On average, the class of 2017 left college with a debt of $28,650, according to the Institute for College Access and Success.
Because of the lack of publicity on the trades, many people believe the trades are limited to electricians and plumbers, but that's incorrect. While they do include those specialties, career paths also include dental hygienist or EMT, for example. If high schools raised more awareness about the trades, these careers might become more commonly known and students wouldn't feel obligated to go to college to gain a good career.
About 70 percent of students look at the cost of college rather than the college itself when applying to college, according to Sallie Mae. Taking into account how many students pay for their own schooling and understanding some people aren't in the best financial state to pay for college tuition, one would think that high schools would publicize trades more, but they don't. 
An average trade school costs around $33,000 overall, while the price at Michigan State University overall costs about $113,912, according to the Michigan State Office of Admissions.  Another common Michigan university is Oakland University. To go there for four years as an in-state resident costs $50,424, according to Oakland University Student Finances. If students knew about these facts, the immense amount of debt from college could be avoided.
On top of that, the average salary of an electrician is $30 an hour, while a registered nurse earns similar pay. The biggest difference is a person in one of those careers is paying college debt, while the other can pocket a paycheck sooner. 
Most of the time the trades are publicized only in CTE classes and not to the average student. The trades advertisement shouldn't be limited to what course the student is taking. 
Colleges are talked about all the time; students even receive visits by college students and representatives. So why not throw in a contractor or EMT, too? Doing this increases the success of high school graduates who can't pay for college and make a major change in their lives.
It's 2020, so if everyone broadens their horizons and gives students every chance at success, there will be a high success rate post graduation. If adults don't start showing students trades now, more and more students will go to college when it may not be the best fit for them. Trades are important to America's economic growth, daily life and it helps Americans provide for their families with products and services, according to the United States Trade Representative. For example, in September 1977 more than 18 percent of the United States labor force worked in manufacturing,as of now that number has fallen to 8 percent according to the U.S Census. Doing that causes the future generation to be in an immense amount of debt due to the increasing cost of college. Overall, having college share the spotlight with tade schools could greatly benefit our world and the students in it.