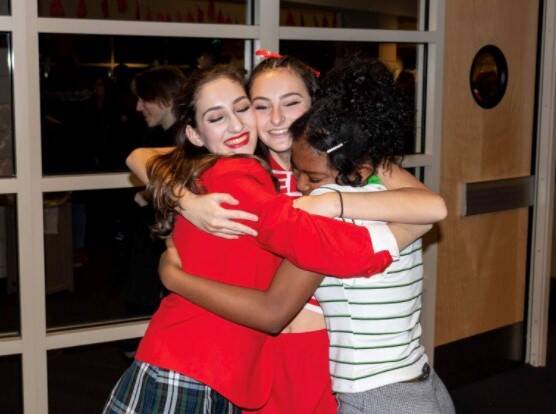 Julia Petterle
Change in this school is a huge thing and junior Olivia Steele knows a lot about it because she switched from a private school to a public school.
"I really wanted to do the secondary programs, but my family couldn't afford private high school," Steele said. "We are part of this district, so I ended up going to Malow and ended up enjoying it." 
Steele attended Holy Family Regional School, but in ninth grade she decided she needed to go to a public school. She participates in the drama club, women's lacrosse team and attends the Center for Science and Industry (CSI).
"She has impacted my club. The drama club wouldn't be the same way that it i, and my class is amazing because of her," drama teacher and club director Eric Wells said. "She comes in everyday and has a smile on her face; she's optimistic and a good person and she made a positive impact."
At her private school, the teachers functioned quieter compared to Eisenhower's teachers and they can do more one on one things with the students. Steele enjoyed being with all of the students as well.
"The students were great; it was really interesting because there were people on different ethnic backgrounds and people of all different religions, which is the reason why it was very interesting. It didn't stop anyone because we all have one common underlying factor, which was that we were all going to Catholic school, so we all have religion in our lives," Steele said.
The transition for Steele going from a small hallway to a school with multiple different pods remained a struggle for awhile, but friendships were not hard to find. She made friends on the very first day of school.
"The switch was really difficult at first because it was something different compared to my old school where I had one hallway versus different pods and hallways, so it's a little confusing at first," Steele said. "I really didn't know anything and so I kind of felt like a new seventh grader. I was in that vulnerable position."
She wanted to stay because of theatre. Steele loved the moment when the projector screen started coming down. Someone ended up leaning on the switch that brought it down onto the stage. 
"My favorite memory was the Phantom of the Opera closing night," Steele said. "My friend and I, Ellie, were on top and we were trying so hard not to laugh because we're in the middle of a scene, but we had to turn ourselves away from the audience, so we could laugh a little bit." 
Steele's junior friend Sydney Townsend said she was quiet when Townsend first met her. Townsend met her last year on Steele's first day of school in their drama class.
"She was very quiet, so I was like, 'oh god, it's gonna have to take a little more to get her to come out of her shell,'" Townsend said. "I thought she was really cool. She was someone I can talk to and someone that I can message and mess around with compared to people that you've known here that have gone to public schools like their whole life."
If she was ever given the chance to go back to a private school, this was her response:
"I have a lot of friends who enjoy the same thing as me here, which is really hard to have at a private school, so I have a lot more interesting things in my life," Steele said. "I feel a lot more connected to the people here than I did at my private school."